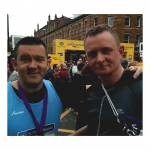 UK Biostores would like to congratulate Ray Corps and Paul Kelly on their run in the Manchester Great Run.
Congratulations also to Liconic UK , whose combined times were not enough to beat UK Biostores in the company challenge.
Many thanks to all our sponsors from UK, USA and Sweden for their support, we managed to raise over £1,400.00 for St Anne's Hospice Manchester, with donations still coming in. You can still donate here. Thank you to everyone involved and to all those who donated.